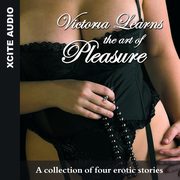 Victoria Learns the Art of Pleasure
Wersja elektroniczna (brak aktualizacji)
Wydawnictwo: Matrix Digital Publishing
ISBN:

978-0-85765-788-6


Wydanie:

2012 r.


Język: angielski

Dostępność:

aktualnie niedostępny



A collection of four erotic short stories with mixed and varied themes.
Victoria Learns the Art of Pleasure - Angela Meadows
Education at the Venus School for Young Ladies turns out to be more engaging than Victoria could ever have anticipated as she learns how to become the ideal wife. Struggling to accept her blossoming knowledge, her classmates happily help her out with her assignments.
Impressionism - Jeremy Edwards
Max finds the view very much to his liking when he visits Valerie's art gallery as she shows him some of her finest attributes. She leaves him her card with an invitation to return after hours for an exclusive showing. Once at the exhibition, he finds himself taking home more than just a couple of paintings...
City of Melbourne - Eva Hore
Relocating to Australia gave me a fantastic view from my new office. It's amazing what goes on after hours sometimes, both for money and just for fun. I'm looking forward to working late more often...
The New Physiotherapist – Eva Hore
Turning up for my physio's appointment, I was surprised to find that my usual therapist Ann had been replaced by the delicious Dick. Having such a gorgeous guy strip me to my underwear for some therapy was an interesting experience and I can't wait for a longer appointment next time.